FSU Arts in the Land-of-Waterfalls – Brevard, NC Event Recap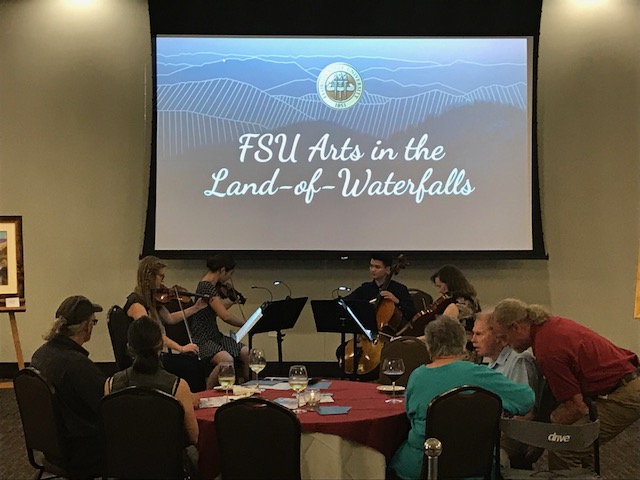 On Tuesday, July 31st the College of Fine Arts and College of Music alumni and friends gathered for an evening highlighting FSU Arts in Brevard, North Carolina. FSU Alumnae Mary Bebout and Debra Lachter promoted collegiate philanthropy by co-hosting the event. Terrell and Mary Bebout and David and Debra Lachter are just two of hundreds of Nole families to call the 'Land-of-Waterfalls' in North Carolina a part-time home. Drawn by a combination of the scenery and cultural activities in the area, these Noles travel north for the summer.
With a prominent music and arts community in Western North Carolina, both the College of Music and the College of Fine Arts have a strong connection to the area. Throughout the year, students and faculty are invited to attend workshops and teach at the prestigious Penland School of Crafts.
---
Marty Fielding @ Penland School of Crafts Gaelin Craighead @ Penland School of Crafts
---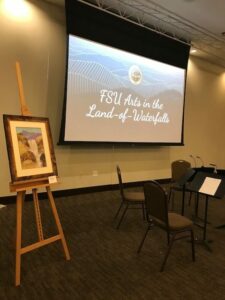 In the summers, more than a dozen students and faculty from FSU Music play and teach at Brevard Music Center. Just down the road, at Highlands Playhouse, undergraduate students from FSU's Music Theatre program are performing in musicals such as Damn Yankees and Guys & Dolls.
FSU Arts in the Land-of-Waterfalls took place at Connestee Falls Clubhouse. More than 70 guests were treated to a quartet performance by College of Music faculty member Corinne Stillwell and current College of Music students Sommer Altier, Moe Gray, and Jack Flores. The quartet performed "allegro ma non troppo" from the American Quartet in F Major, Op.96 by Antonin Dvorak.
FSU Alumni from the area displayed pieces for the event. Artists included Mary Alice Braukman, Sandee Johnson, Joe Johnson, Deb Lachter, and Marty Ray. Proceeds from the sale of displayed art will enable the College of Fine Arts to offer student scholarships, award faculty research grants, recognize exceptional teaching and support activities across the College.
The Colleges' faculty, staff, and students had a wonderful evening meeting alumni and friends of FSU and promoting FSU Arts in the Land-of-Waterfalls.
The College has several exciting events planned for the 2018-2019 academic year. For a full list, check out the college calendar.