Art Professor Lilian Garcia-Roig Featured in Tallahassee Woman Magazine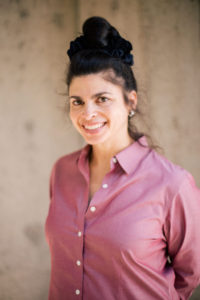 We are proud to announce Department of Art Professor Lilian Garcia-Roig was one of only five women featured in Tallahassee Woman for their National Hispanic Heritage Month spread!
Born in Havana, Cuba, Garcia-Roig was raised in Texas and worked there for 30 years. She now lives and works in Tallahassee. Her latest works feature large-scale on-site painting installations of dense landscapes that overwhelm the viewer's perceptual senses. Each individual painting is created over the course of the day in an intense wet-on-wet cumulative manner that underscores the complex nature of trying to capture first-hand the multidimensional and ever-changing experience of being in that specific location. Her works are as much about the materiality of the paint and the physicality of the painting process as they are about mixing and mashing the illusionist possibilities of painting with its true abstract nature. Her newest works, "Hecho En Cuba" (Made In Cuba) and "Hecho Con Cuba" (Made With Cuba) explore the idea of a hyphenated-nature and offer a more conceptual approach in reconciling her Cuban and American pictorial and personal identities.
She has shown internationally and nationally at such places as the Chopo Museum in Mexico City, Byblos Gallery in Verona, Italy, the Americas Society Gallery in NYC, Museum of Latin American Art in Long Beach, the National Museum of Women in the Arts and the Art Museum of the Americas (both in Washington D.C) as well as extensively in many museums throughout the southeast, especially in Texas and Florida.
Having now been on the FSU faculty of the Art Department for 18 years, I can say that what I do in Tallahassee is work on, teach, and share my interests in art and nature with the local, as well as national, communities I engage with. As a Cuban-born immigrant who was educated in America, I can say that my Cuban-American 'hyphenated status' helps me serve as a type of bridge that can understand, empathize, represent and share my two distinct cultures with people traveling in either direction.
Tallahassee Woman is a bimonthly magazine with information and entertainment for women that is distributed on a complimentary basis throughout the greater Tallahassee area. Their mission is to capture the spirit of Tallahassee women who are devoted to living their lives to the fullest potential in their families, home, career and community. They strive to provide features and articles that enrich women's lives and inspire women. It is a unique publication by women for women that covers the issues, trends, and the spirit of women that live, work, and play in our community. Every issue includes topics of interest such as family, career, fashion, business, home, health, trends, the arts, money, relationships, travel, food, and more that are selected to inform and entertain their readers to enhance their lifestyles.