Artist Jiha Moon in Residence Thanks to South Arts Foundation Grant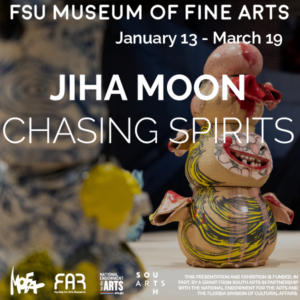 In February of 2022, the Facilities for Arts Research (FAR) was awarded a grant from South Arts to bring Jiha Moon to Tallahassee for a three-day long residency. During her time on campus and in the community, the nationally recognized artist hosted a workshop at the Tallahassee Senior Center, gave a lecture at the Museum of Fine Arts (MoFA), and met one-on-one with students from the Department of Art.
Moon's visit was part of the Far and Away residency, an ongoing program sponsored by FAR and the College of Fine Arts which brings artists from across the country to FSU to foster collaboration and creative research. Moon's visit also coincided with her exhibition Chasing Spirits, hosted at the Museum of Fine Arts.
It was incredible to see our audiences engage and respond to Jiha Moon's installation. There are so many access points into her work – humor, iconography, form, and color all meeting to create a complex conversation about identity.

– MoFA Program Director Annie Booth
Jiha Moon is an Atlanta-based, Korean born multimedia artist whose work has been shown internationally at museums such as the Smithsonian Museum of American Art, Crystal Bridges, the National Museum of Women in the Arts, and the Hirshhorn Museum and Sculpture Garden. Her paintings, drawings, and ceramics explore issues of global identities and the construction of personal narratives. At the conclusion of the exhibition, MoFA acquired a work from the show to be included in the museum's permanent collection, ensuring that Moon's visit will have a lasting impact on the FSU community.
About SouthArts
Based in Atlanta, Georgia, South Arts is one of the primary funders of art and culture in the southern United States. Moon's visit was funded through their Presentation Grants initiative, which supports programming featuring southern artists, musicians, and filmmakers.