Home
»
News

»
Joelle Dietrick Selected for a Fulbright Global Scholar Award to Germany, Chile and China
Joelle Dietrick Selected for a Fulbright Global Scholar Award to Germany, Chile and China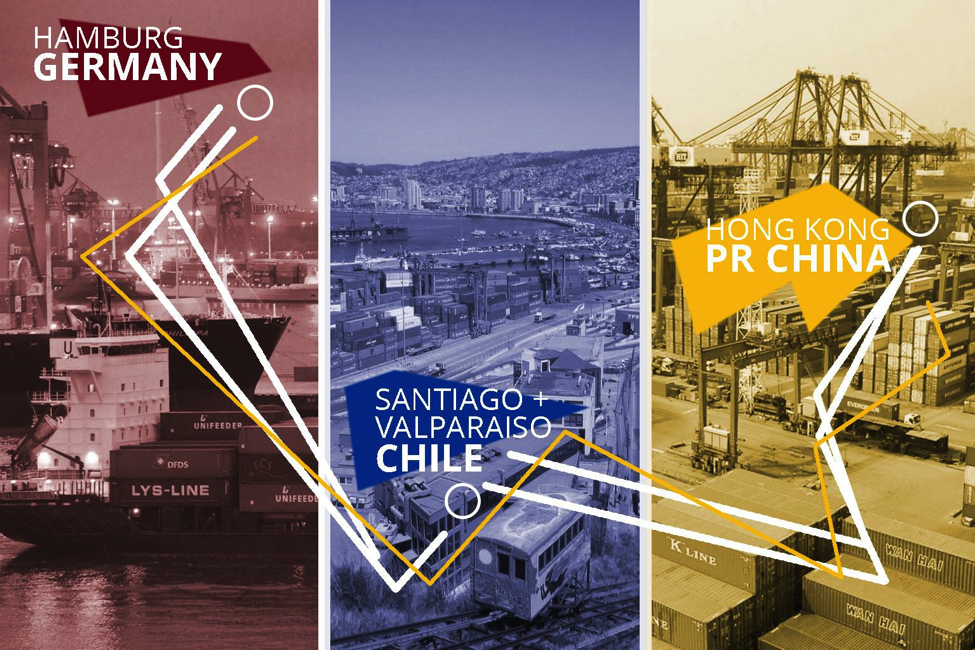 Assistant Teaching Professor Joelle Dietrick of the Department of Art has been offered a 2016–2017 Fulbright Global Scholar Award to Germany, Chile and China in Art. During her Fulbright, she will focus on an ongoing body of research about transnationalism through an examination of seaport infrastructure—specifically architecture and information technology (IT) systems—in Germany, Chile and China. Titled "Cargomobilities", papers and artworks from this research study the flow of goods and people across borders in the 20th century as a way to document and anticipate related patterns in the 21st century. Aligning avenues of inquiry from art history, business logistics and data visualizations, the outcomes from this Fulbright will scrutinize the visual strategies at work in propaganda posters, architecture, urban planning and mobile technologies to examine physical and digital infrastructure that is no longer infra-, or below the surface, but rather omnipresent and needing examination.
Participating in the Fulbright Global Scholar Program during its inaugural year, she will connect to overseas institutions with the following schedule:
Hamburg, Germany (April–July 2017). Through collaborations with Hochschule für bildende Künste Hamburg (HFBK), International Maritime Museum Hamburg and the University of Hamburg, she will research the port, the Chilehaus, and local archives; teach a seminar at HFBK; and create an artwork for Millerntor Gallery #6.
Santiago and Valparaíso, Chile (December 2017). At both the National Archives of Chile in Santiago and Pontificia Universidad Católica in Valparaíso, she will investigate the relationship between the Chilehaus in Hamburg and the north of Chile.
Hong Kong, China (December 2018). In cooperation with the Asia Art Archive (AAA) and the Hong Kong Maritime Museum, she will study the port and Asian artists who have similar research agendas, and therefore, expanding my research and contributing to AAA's shortlist (reading list) for Hong Kong as a port city.
All three locations have thriving art scenes, and her Fulbright allows for mutual exchanges at several institutions. At her first location at Hochschule für bildende Künste Hamburg (HFBK), she will work most closely with Friedrich von Borries, architect and design theorist who acted as 2008 Commissioner General of the German contribution to the Venice Biennale of Architecture, and since 2015, as a primary investigator of "the aesthetics of the virtual" research group in collaboration with Integrated Climate System Analysis and Prediction (CliSAP) and the Institute for Peace Research and Security Policy at the University of Hamburg.
Department of Art Fulbright Awardees
Assistant Professor Owen Mundy received a Fulbright award to travel to the University of Klagenfurt in Austria during Spring 2016. While here, he will lecture and research on the Cultural Distinctions in Perceptions of Data Privacy. Owen has received international media attention with his work exploring data privacy through his website, I Know Where Your Cat Lives.
Professor Mary Stewart was awarded the Senior Specialist Fulbright in to work with Seneca College in Toronto, Ontario to investigate the Canadian National Centre of Excellence (NSE) model to develop a best practices hub dedicated to teaching applied creativity. This process was initiated through a conference that brought together four universities and five colleges.
Professor Terri Lindbloom was awarded her Fulbright Award in 1991, which enabled her to research a project titled "Installation Based on Islamic Screens in Morocco" in Rabat Morocco.
Professor Pat Ward Williams was awarded a Fulbright Awarded in 1996 to work at the University of the Witwatersrand in Johannesburg, South Africa on a project titled "The Significance of Family Photographs in South Africa – A Fine Art Photographic Project" as part of the African Regional Research Program.
For further information about the Fulbright Program or the U.S. Department of State's Bureau of Educational and Cultural Affairs, please visit our website or contact ECA Press, telephone 202-632-6445 or e-mail ECA-Press@state.gov. United States Department of State · Bureau of Educational and Cultural Affairs · Washington, DC · 20522 ·