Ignite a Spark: Make a Gift to "FSU Art Takes New York"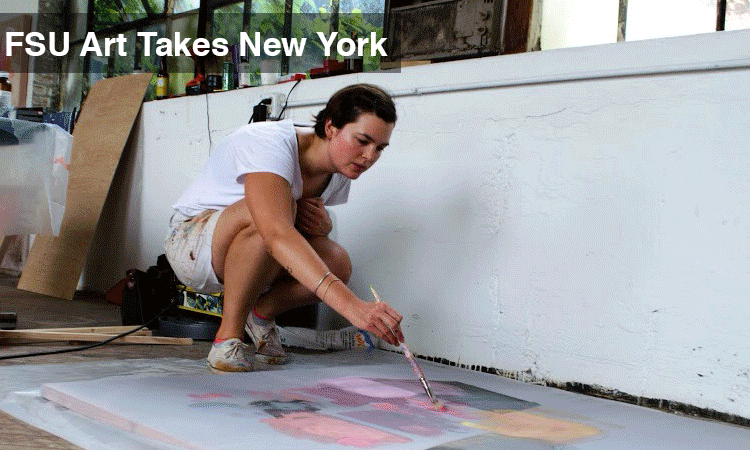 Help the Florida State University Department of Art MFA Studio Art Class of 2016 travel to New York City this October for professional development opportunities unique to the Big Apple.
In mid-October, the MFA Studio Art Class of 2016 will travel to New York City to steep ourselves in one of the most preeminent cities for arts and culture in the world, as part of our coursework in Professional Practices.  This educational experience will include:
Visits to professional working artist's studios
Guided tours of the Guggenheim, Whitney Museum of American Art, the Museum of Modern Art, the Brooklyn Museum of Art and the Metropolitan Museum of Art
Networking with curators at art centers such as the Sculpture Center and the Drawing Center
Small-group networking with FSU Studio Art alums
---
---
What does this trip mean to participating students?
"Our MFA NYC trip changed my life.  At times, we as students forget that our careers and aspirations of being an artist are romanticized. Going to NYC was an opportunity to see the range of emerging and established artists with a behind-the-scenes look at their studios and to hear personal stories of success and struggle.  NYC was inspiring, there is nothing like it."

– Craig Ryan, FSU MFA '14, now living and working in NYC

"Meeting artists, making connections, seeing works-of-art firsthand that I've only been able to study in books and presentations. Through this experience, we can exact our entrepreneurial skills to plan and make our careers happen."  

–  Gaelin Craighead, MFA Studio Art Class of 2016

"Contemporary artists of today are only successful when they are trained to facilitate their careers as creatives, and this trip to New York City is a stepping-stone for just that – to help shape our abilities to be the creative problem solvers MFAs need to be."

–  Elise Thompson, MFA Studio Art Class of 2016
Your gift will make this priceless trip possible and prepare FSU graduate students with the tools and experience necessary for our futures as professional artists.
About FSU's MFA Studio Art Program
The Master of Fine Arts degree is considered to be a terminal academic degree for studio artists and is required for most College and University teaching positions. The Department of Art M.F.A. curriculum offers the student the discipline, training and artistic understanding required for life as a practicing artist and professional. It is designed to develop the student's capabilities for creative thinking and a sense of open inquiry, together with a thorough awareness of the multiplicity of new and traditional principles. Such capabilities may further enable an artist to make a valuable contribution as a professional artist, designer, art instructor, arts administrator, museum staff, gallery owner or other related creative professional. Graduate students are chosen on the basis of artistic accomplishment and potential, evidence of conscientious work habits and sense of commitment.