FAR: Sailing the Sea Change in Ceramic Arts with a visit to NCECA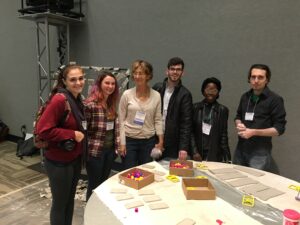 When the National Council on Education for the Ceramic Arts (NCECA) held their 50th anniversary conference in Kansas City last month they invited Facilities for Arts Research director Carolyn Henne, head formLab technician Windham Graves, and Faculty in Residence Holly Hanessian to present new work in the field of Ceramic 3D printing.
"There is a sea change taking place in the ceramics community with digital technology tools that have begun to inform our ceramic art practice. For the first time in its fifty hear history, NCECA sponsored a Clay Fab Lab which was a great success. I was very proud that FSU was asked to be part of this first initiative. The project that the Facility for Arts Research sponsored, 'Stacking Emoji Interactive Project' was extremely successful in the Clay Fab Lab." –Holly Hanessian
Ceramic art is a medium that has been woven into our shared human culture since the earliest stages of our species' civilization; it is perhaps the most traditional of all art forms. While there is no doubt that the traditional methods will sustain, recent technological innovations are opening up new processes and applications that expand the possibilities of this hallowed medium. FAR will continue to work with innovators in the field to research, experiment, and push the boundaries of what can be achieved in the ceramic arts.